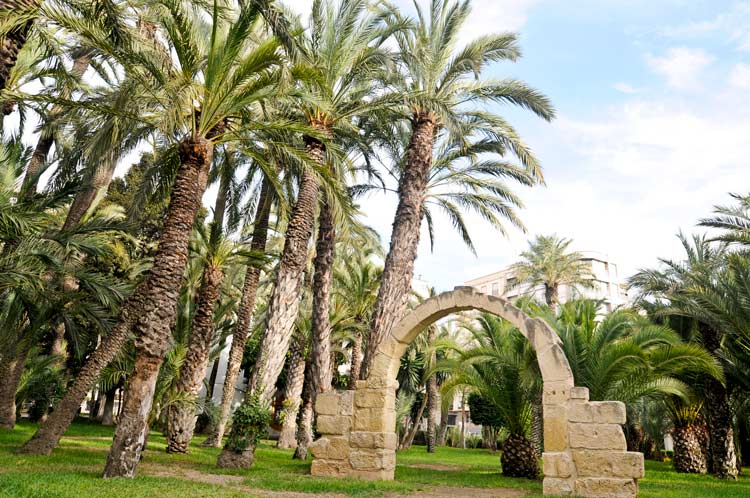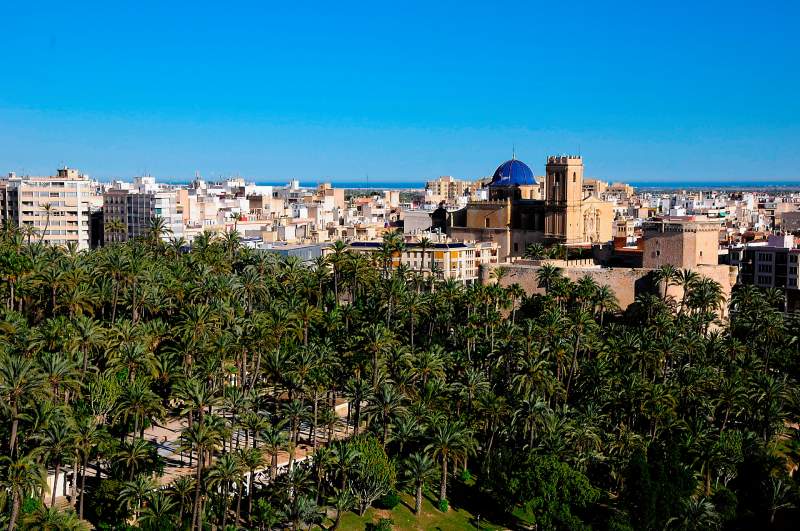 Elche is a city of great surprises. There is no Spanish other city that has three properties registered in the different categories of World Heritage of Unesco. That definitely makes this magnificent city unique. Visiting its old town means strolling among buildings from different periods, with different architectural styles, and exciting stories and popular festivities. Right in the center is the Plaza de la Glorieta, with the replica of the famous Lady of Elche and an angel representing the Mystery of Elche, the well-known drama that tells the story of the Ascension of the Virgin Mary and attracts thousands of tourists every year. The old convent of Santa Lucia, the Arab Baths, with three vaulted rooms (cold, warm, and hot) and a dressing area, the Basilica of Santa María de Elche, and the Palace of Altamira are some of the jewels that are also preserved.
Elche has a spectacular oasis in the middle of the city, a valley with more than 200,000 palm trees that stretches as far as the eye can see. Despite its lush forest appearance, the Palmeral was born as an agricultural system implemented by the Arabs in the 8th century. Due to the advanced and extensive irrigation system, today, it is one of the largest in the world, although its function has become more scenic and cultural. It was declared a World Heritage Site in 2000. In 2001, UNESCO created the category of Masterpiece of the Oral and Intangible Heritage of Humanity. And the Misteri, or Festa d'Elx, had the undoubtedly deserved honor of being the first Spanish festive event to be included in it. The unique exhibition area of the Museo Escolar de Pusol, whose full name (and very close to reality) is Centro de Cultura Tradicional Museo Escolar de Pusol, became in 2009 part of the Register of Exemplary Practices, whose inclusions are decided by the Committee for the Safeguarding of the Intangible Heritage of Unesco. This is an international recognition of the careful, intense, and hard work of those who, since the late sixties of the last century, were always very clear that to look to the future, it is essential to know who we are and where we come from.
More information about Elche at: www.visitelche.com
Centro de Congresos "Ciutat d'Elx"
Right in the heart of the city, the congress venue known as Ciutat d'Elx Congress Centre is fortunate to be in a privileged location that is only 300 metres from the City Hall and amidst gardens.
Its modern design has incorporated the most avant-garde technology to cater for all manner of congresses and conventions as several spaces are readily convertible as required by clients' needs.
Location: C/ Filet de Fora, 1, 03203 Elx, Alicante